Price: $19.99

To download:
1. Open iBooks on your iPad or Mac.
2. If iBooks opens to your Bookshelf, select "Store."
3. Select "Search" and type "Pyrex Passion."
4. Purchase and download.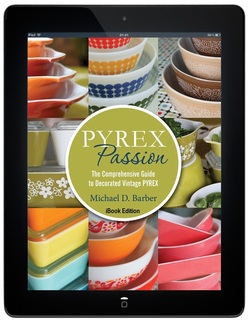 The iBook edition of PYREX Passion contains the most up-to-date information on vintage opal Pyrex, including complete descriptions and photos for 52 standard patterns and over 150 promotional items. Includes more than 50 new or updated photos, including original cradles for many promotional items.

Navigate Easily: Hyperlinks are available throughout the iBook to jump to relevant topics within the iBook or to online content. The iBook includes both a hyperlinked Pattern Reference and text-based Index.

Bookmark Favorites. Use the bookmark to open the iBook to your favorite pattern or design.

Interact with Images. New interactive images provide enhanced information with the ability to zoom-in to information in ads or photos.

Make Customized Notes. Add electronic, color-coded notes directly on the content. This ability is especially helpful to track "wish list" items, purchase prices, or any other helpful information.