Kitchens of the 1960s saw many new technologies to make food preparation easier. Electric can openers, blenders and food processors were new and inexpensive gadgets. Dishwashers gained popularity through the decade, making clean up almost effortless. For homeowners who could not afford to install a dishwasher in the cabinetry, portable machines were available that could be connected to the faucet and moved out of the room when not in use.

Refrigerators had been around since the 1920s, but by the 60s they were improved with new
technology such as a frost-free freezer compartment. Most refrigerators of the decade had the freezer compartment below the refrigerator, a trend that is gaining popularity again today.

Although technology was making food preparation faster and easier, kitchen design of the 1960s began to reinterpret old-style colonial motifs--and eagles were all the rage. Eagles were featured prominently on two PYREX patterns: Early American and Federal Eagle.
The Launch of Early American
In 1962, Corning launched a new PYREX pattern called Early American. The Early American decoration was in Colonial brown with 22-karat gold decoration and also appeared in white with brown decoration.

Many items were available including mixing bowls, Cinderella bowls, refrigerator sets, divided dishes, round casserole sets and other bake ware. Many promotional items were also produced, such as Chip and Dip Sets and oval casseroles with brass cradles and walnut handles.

The Early American pattern proved to be very successful. It was one of the longest running of all PYREX patterns, lasting nearly a decade.
Early American Beverage Serving Set (1967)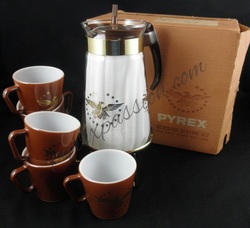 In 1967, Corning produced a PYREX Beverage Serving Set with an eagle motif. Although the design is somewhat different from the Early American design, the set was produced as a companion item and marketed as a "12 Cup Carafe with Candle Warmer and 6 - 10 oz. mugs with Early American decoration."

The solid brown mugs have a gold eagle
encircled in stars. This same design has recently reappeared on turquoise blue mugs with the gold eagle. It is possible that a turquoise beverage serving set was also produced.

Many online auction sites mistakenly refer to the Early American mugs as "Federal Eagle Mugs." Although similar, both the eagle design and mug style are noticeably different.
Federal Eagle Product Line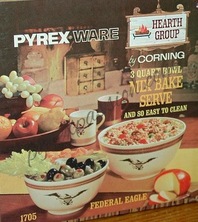 The Federal Eagle product line was launched in 1967 and only lasted a few years. The pattern was available on a limited number of items including two sizes of mixing bowls (1 1/2 Qt and 3 Qt) as well as two styles of mugs.

The mugs had a rounded handle, unlike the the "D-handle" mugs produced for Early American. One Federal Eagle mug was available in beige with a gold eagle and gold band at the bottom while the other style was solid brown with a gold band at the bottom.