Only Corning Glass Works could get away with these unique items! In 1973, Corning launched multiple table top items and beverage servers that were surely borrowed from its laboratory glassware product lines. The items retailed from $0.99 for the small salt and pepper set to $1.99 for the Oil and Vinegar Cruet Set or Large 2 Qt Beverage Server.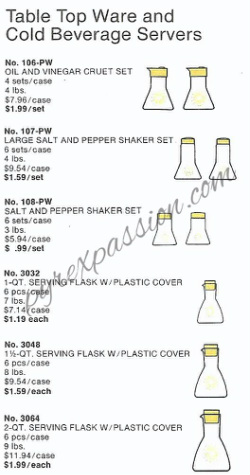 Items shown in the 1974 Dealer Catalog included:

Oil and Vinegar Cruet Set
Large Salt and Pepper Shaker Set
Small Salt and Pepper Shaker Set
Small 1 Qt Serving Flask
Medium 1 ½ Qt Serving Flask
Large 2 Qt Serving Flask

The beverage servers and salt and pepper shakers were decorated with a gold starburst design, while the pattern appeared in bright yellow on the oil and vinegar flasks. These unique items were available from 1973-1975 although the small Salt and Pepper Shakers still appeared in dealer catalogs through 1977.