Believe it or not, March 14 is National Potato Chip Day! In honor of the holiday, here's the history of how PYREX embraced North America's favorite snack and what led to the creation of popular "Chip and Dip Sets" in the 1950s and 1960s. But first, a little chip and dip history.
History of the Potato Chip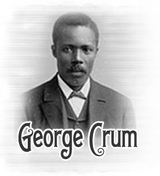 According to many urban legends (some of which are hotly debated on the Internet), the potato chip was invented in 1853 by George Crum, a resort chef in Saratoga, NY. The son of an African-American father and a Native American mother, Crum invented the chip when a patron who ordered a plate of french-fried potatoes sent them back to Crum's kitchen because he felt they were too thick and soft. Crum decided to get back at the complainer by making really bad fries that were too thin and crisp to eat with a fork. But the plan backfired. The guest liked the brown, paper-thin potatoes and soon potato chips were a specialty at the resort. Crum opened his own restaurant in 1860 with the profits he made selling his new chips. Every table had a complimentary basket of, you guessed it, potato chips. Potato chips remained a local Saratoga delicacy until the 1930s, when an enterprising salesman, Herman Lay, popularized the product throughout the United States.
Fast-Forward a Century
By the late 1950s, potato chips had become North America's #1 snack food. At the same time, entertaining had changed from a formal, sit-down affair to casual buffet dining or coffee-table service.
Chips were becoming more than picnic fare and were now served alongside cheeses and other "finger foods." Embracing the casual dining trend, the Lipton Company began promoting new uses for its dried soup mix. The company experimentally launched a campaign that taught people to combine their undiluted dried soup mix with sour cream and "dip," the perfect companion to salty chips, was born.
PYREX Seizes the Moment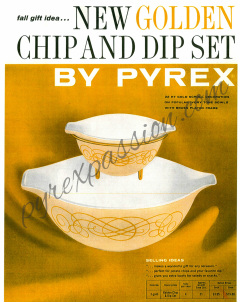 Not to be left behind, Corning Glass Works launched a wide variety of PYREX Chip and Dip Sets starting in the late 1950s. The two-bowl set was advertised as useful not only for chips and dip, but also for salads, floral centerpieces and seafood appetizers.

The first sets from Corning in the late 1950s included the Hot 'N' Cold Chip and Dip Set (known as Turquoise "Eyes") which combined 401/403 mixing bowls, Balloons in 1958 and Golden Scroll in 1959, both of which combined 441/444 cinderella bowls and the Turquoise Chip 'N' Dip Hostess Set in 1959.

In the 1960s, PYREX sets included Golden Grapes in 1960, Early American and Town & Country in 1963, Ivy in 1964, Verdé in 1967 and Americana Fall Colors in 1968.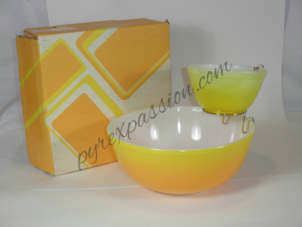 By the 1970s, fewer sets were available with only the Pineapple Party set released in 1972, which combined 401 and 404 mixing bowls.

The 1980s saw the release of the Speckled Lines Chip and Dip set which used a wooden disk rather than a metal bracket to hold the dip bowl. This set combined a 404 mixing bowl with a small 10 oz. "berry bowl" borrowed from the dinnerware product line.