Corning, Incorporated, with headquarters in Corning, NY has a long history of science-based innovations in glassware and ceramics. Although many collectors associate Corning Glass with consumer product brands, such as PYREX, Corningware and Corelle, the company's core focus has always been on scientific and industrial applications.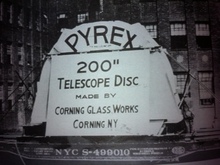 Telescopic Disc created for CIT in 1936
Some of the notable innovations in science:
1880s: Production of the first light bulbs for Thomas Edison.
1900s: Creation of weather-proof glass railroad lanterns, which would soon become the basis for clear "Pyrex."
1930s: Fabrication of telescope mirrors for California Institute of Technology.
1940s: Manufacture of durable dinner-ware for the U.S. military, which would soon evolve into opal "Pyrex."
1960s: Creation of safer automobile windshields which fracture into small granules if
broken.
1970s: Development of fiber optics used in networking and telecommunications.
From Humble Roots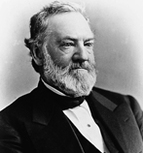 Armory Houghton Sr.
In 1851, Amory Houghton, Sr. founded what would become Corning Glass in Cambridge, MA as Bay State Glass Company. By 1864, he had sold his interest in the company and purchased the idle Brooklyn Flint Glass Company in Brooklyn, NY. A few years later, in 1868, labor problems forced Houghton to relocate to Corning, NY where the company set up shop as Corning Flint Glass Company. By 1870, the company was renamed Corning Glass Works of Corning, NY.
Consumer Products Division
The Consumer Products Division of Corning Glass Works focused on glass and ceramic products for home use. The first consumer products were launched in 1915 with PYREX Ware – twelve clear glass products that could be used for baking as well as storing. Prior to this time, glass was too sensitive to sudden temperature changes, causing breakage. Corning based the kitchenware formula on its weather-resistant lanterns developed for the railroads a few years earlier.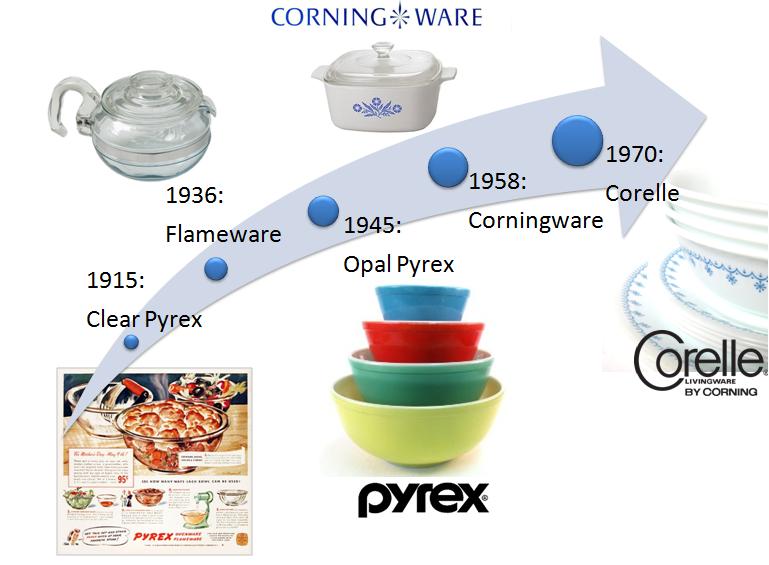 Popular consumer products included:

Clear PYREX Ware (1915-1998 by Corning Glass Works, 1998-Present by World Kitchen)

Flameware (1936-1979)

Opal PYREX (1945-1986)

Corningware (1958-1998 by Corning Glass Works, 2009 re-launched by World Kitchen)

Corelle Livingware (1970-1998 by Corning Glass Works, 1998-Present by World Kitchen)

The Consumer Products Division enjoyed great popularity and success throughout much of the 20th century. However, the 1990s brought about much change. The company was renamed Corning, Inc. in 1990 and revived its focus on research and technology. Based on declining sales and profits in consumer products, the division was sold to Borden Foods in 1998 and renamed World Kitchen, LLC in 2000. World Kitchen continues to manufacture many items, such as Corelle and clear PYREX. In 2009, World Kitchen also re-launched Corningware.