Cosmopolitan Hot Casserole Set Date Now Known: 1973!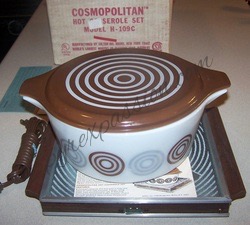 The Cosmopolitan Promotional item is a favorite for collectors due to its innovative design and mysterious origins. The casserole is sometimes referred to as the "bulls eye" due to the design.

The casserole (475 2 1/2 Qt Round Casserole) is curious in that some versions have the familiar PYREX stamp on the bottom while others are marked "Salton."

The Salton version of the casserole was manufactured by Corning Glass Works for Salton, Inc. as part of the Cosmopolitan Hot Casserole Set. The set included the casserole and a a square warmer (Model No. H-109C). Salton was a popular manufacturer of hot plates and food warmers during the 1960s and 1970s. When sold as part of the Salton set, the casserole is typically stamped "Salton" on the bottom.

A recently acquired Salton set, which included the box, revealed the date of manufacture as 1973. The date was stamped on the bottom of the box as the production date.

The casseroles marked "PYREX" may have been sold separately by Corning, rather than Salton during the same time period, although this is speculation.