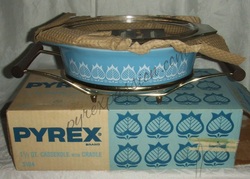 Thanks to a recent discussion with a PYREX collector, the date of the Blue Tulip 043 1 1/2 Qt Oval Casserole is now known to be 1964. The collector recently
acquired a new-in-box (NIB) casserole which included the original brochure showing Corning's consumer product line from the time: Golden Honeysuckle, Early American and Town and Country items. The model number, 5164, indicates the casserole was produced in 1964.
At this time, Corning did not typically name promotional casseroles. "Blue Tulip" is the unofficial name of the casserole popularized by collectors. The official name was simply "1 1/2 Qt Casserole with Cradle."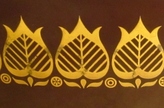 The same design was also offered in gold on brown on a 043 1/2 Qt Oval Casserole and the larger 045 2 1/2 Qt Oval Casserole. The gold on brown casseroles are quite hard to find, leading some collectors to speculate that this version was produced as a test pattern and not available for purchase. The exact date of production for the gold on brown version is unknown, but presumed to be during the same time period.