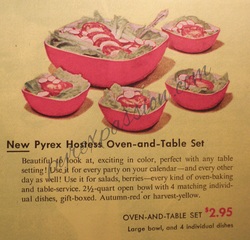 Corning produced opal Pyrex Hostess Sets from 1949-1953 to support the growing trend of entertaining guests and having dinner parties. Hostess Sets were described in 1949 advertisements as "autumn-red" and "harvest-yellow." Sets were sold as:

Hostess Oven-and-Table Set (Large Hostess Set)
025 2 ½ Qt Serving Bowl (no lid) and four 12 oz. (410) Ramekins.

Hostess Set (Small Hostess Set)
015 1 ½ Qt Serving Bowl (with lid) and four 7 oz. (407) Ramekins.
The launch of the Hostess Oven-and-Table Set was advertised in the September 1949 edition of Ladies Home Journal, while the smaller Hostess Set was out in time for Christmas 1950. The ramekins and serving bowls were also sold separately. When purchased individually, a lid was included with both sizes of serving bowls.
Hostess Dishes Reappear in 1959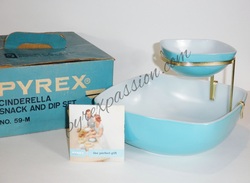 Although yellow and red hostess bowls were discontinued in 1953, the shape would sporadically reappear throughout the 1950s, most notably in the 1959 promotional Snack and Dip Set in turquoise.

This set remains extremely popular with collectors, typically commanding over $100 at online auction sites.
Hostess Dish Variations or Test Patterns
Other Hostess Bowls in unique colors have also turned up. Although their exact dates of production are unknown, most are presumed to be from the 1950s. These variations are quite hard to find. Variations for the large 2 1/2 Qt hostess dish include: Dove Gray, Pink Desert Dawn, pastel Pink, and Charcoal (made in Delphite Blue, rather than opal).
Variations of the smaller 1 1/2 Qt hostess dish have been found in bright turquoise, a different shade than the turquoise from the Snack and Dip Set, and forest green. The forest green is unique in design, with a clear lid.