Holiday Promos Offered in 1960-1961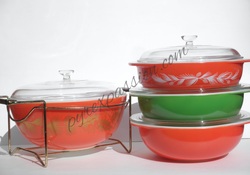 Throughout the years, Corning produced several holiday-themed items. The first items were offered in 1960. The Golden Leaf Casserole was a 404 mixing bowl with knob lid (626) and brass mounter, ideal for punch, salads, or hot dishes (far left in photo). The other item offered in 1960 was the Holiday Casserole, a 2 Qt round (024) casserole with knob lid (top right in photo). Two other 2 Qt round casseroles are ideal for the holidays: Bright Green and Bright Red. The exact production dates for these two casseroles is unknown, but likely in the 1970s.
The Deluxe Buffet, with a Golden Poinsettia design, was the only other holiday item specifically produced for the consumer market. The 2 1/2 Qt oval casserole (045) with dual candle warmer was available in late 1961. A matching carafe was sold separately.

The Golden Pine (not shown) 2 Qt Square Space Saver Casserole (575) was also available in 1961. Although perfect for a holiday table, the Golden Pine design, which included gold pine cones on a white background, had broader appeal throughout the year.
Corning Employee Holiday Gift Items
If you were lucky enough to work for Corning Glass Works in the 1960s-1980s, you likely received some wonderful holiday gift items, only available to Corning employees. Currently, these items are in great demand with collectors. Dozens of employee holiday gifts were distributed through the years, including those above.