Prior to the mid-1970s, Corning typically did not name promotional patterns. Box descriptions were usually simple: "Decorator Casserole with Cradle." However, the box was designed to included the pattern so consumers could identify the item inside. Even popular standard patterns, such as Butterprint, were often referred to only by color (e.g., Turquoise) rather than the official name. This was often the case in both dealer catalogs and advertisements. The lack of official pattern names has given rise to many popular nicknames to help identify items.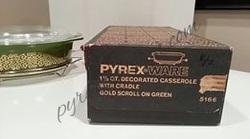 Recently, Pyrex Passion Facebook member, Kim Riffey found the promotional "Green Bramble" with the box, revealing the official name: Gold Scroll on Green - unimaginative, but descriptive.

The Gold Scroll on Green was a 1 1/2 Qt oval casserole (model 043) that was released in 1966. It included a brass cradle with round walnut handles. This was the same cradle style used on many other promotional items during 1964-1968. The gold scroll design was also produced on the larger 2 1/2 Qt oval casserole (model 045) but the casserole is beige instead of green. Perhaps we will soon find a "Beige Bramble" box to determine if its official name was Gold Scroll on Beige. Thanks to Kim Riffey for sharing her find and photos.