Every February 14, across North America, candy, flowers and gifts are exchanged between loved ones, all in the name of St. Valentine. This Valentine's Day, we'll look at a few love-inspired PYREX items with a heart design. Throughout the years, Corning only offered two designs that included hearts.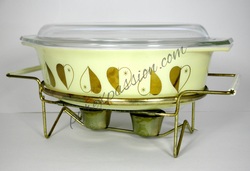 Golden Hearts Casserole

The first heart design was on the Deluxe Cinderella Casserole. This 2 ½ Qt oval casserole (045) was offered as a promotional item in late 1958 and early 1959. The casserole is referred to as "Golden Hearts," due to the gold design printed on a cream background. The casserole included a brass cradle with dual candle-warmer.

Fall 1958 advertisements grouped this promotional casserole with six other "beautiful Christmas ideas with today's look for today's cook." The casserole was described as the "New PYREX Deluxe Cinderella Casserole. Its attractive brass-plated cradle holds two candle warmers – to keep food hot in 2 ½ Qt Decorator Casserole." The original retail price was $5.95.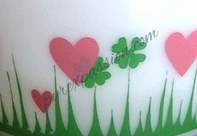 Lucky in Love Casserole

The second PYREX design that included a heart design is the ever-elusive "Lucky in Love" casserole. This hard-to-find 1 Qt round casserole (473) was produced in 1959 (PYREX by Corning, Rogrove & Steinhauer, pg. 54). Relatively few of these casseroles have been found, leading some to believe that the piece was either a test design or produced in very limited quantities for a special event. Only 3-4 of the "Lucky in Love" casseroles are known to exist.