In 1970, Corning launched an assortment of new 3 Pc. Bake Ware Sets in a variety of patterns. The sets included a loaf pan (913), square pan (922), and oblong pan (933). One of the new sets was called "Earth Tones" in dealer announcements. Although the announcement photo shows pans with rounded corners, the new bake ware sets actually had sharply angled corners.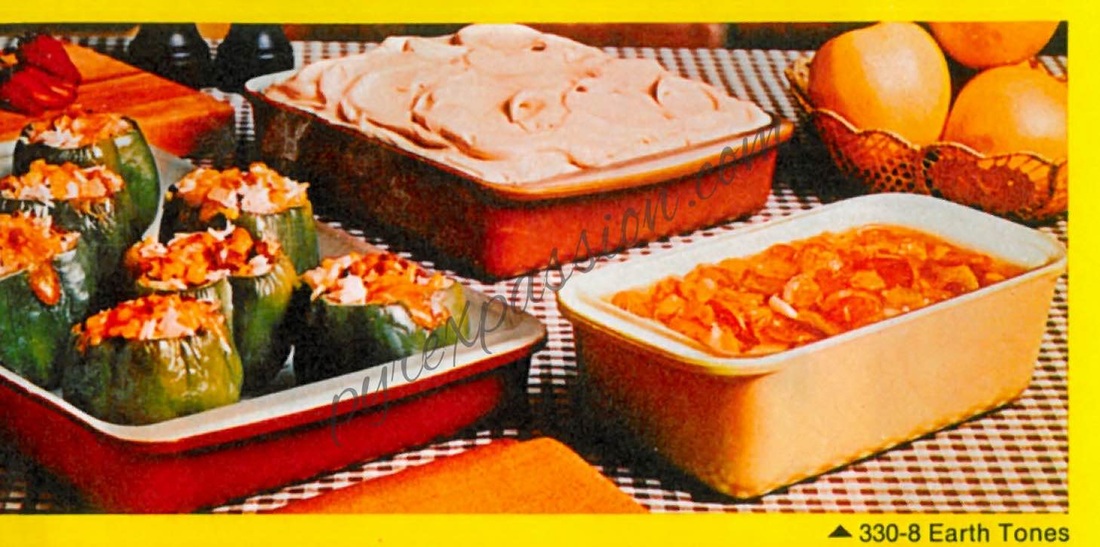 Although called Earth Tones in the dealer announcement, the set was actually shown with the Early American pattern in the 1970 Dealer Catalog, with no reference to the name, "Earth Tones." Adding to the confusion, boxes for the set were labeled "Brown" rather than Earth Tones or Early American. The reference to "Brown" is somewhat misleading since the 3 Pc. Bake Ware Set contains a loaf pan in solid beige, square pan in solid burnt orange, and oblong pan in solid rust.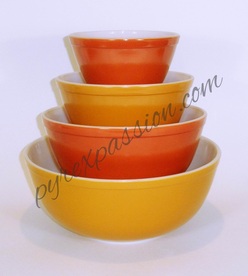 Adding to the mystery is the 4 Pc. Mixing Bowl Set in similar colors. The mixing bowls are hard to find, indicating they were likely produced as a test item, special promotion, or limited edition set. Their exact date of production is unknown. The Mixing Bowls did not appear in dealer catalogs and were likely produced a few years later based on their back stamps.

Curiously, the three smaller bowls (401, 402, 403) have the newer, square PYREX micro-wave stamp on the bottom whereas the large 4 Qt bowl has the older, round stamp. The mixing bowls alternate solid rust (401, 403) and burnt orange (402, 404).

The box for the mixing bowl set was unlabeled and unmarked, with the exception of a stamp that read "400 CRS." The "400" was in reference to the 400-Series Set (401, 402, 403, 404), but the significance of "CRS" is unclear. A recently found new-in-box set also had a price tag which read, "Corning Glass Center $5.00" indicating this particular set was sold directly in the Corning Glass Center Shop.