| | |
| --- | --- |
| | The "Blue Dianthus" opal PYREX pattern has always been somewhat of a mystery. Relatively few pieces have been found. The known items include 440-Series Cinderella Bowls (441, 442, 443, 444) and the 480 3 Pc. Casserole Set (473, 474, 475). Based on the back stamp, items certainly date from before 1974, but the exact date of production was unclear. In addition, too many items have reappeared to indicate that the pattern was simply a test design. On the other hand, too few items have reappeared to indicate that the pattern was sold as a promotion. Now, thanks to an avid collector who recently acquired a "new-in-box" 480 set, we have answers! |
Blue Dianthus: Produced as a Sales Test in 1963!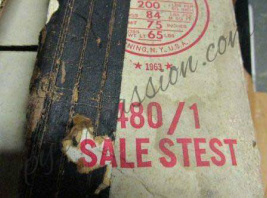 Original boxes often reveal helpful information, especially for rare or hard-to-find PYREX patterns that do not appear in dealer catalogs or advertisements. Recently, a collector acquired numerous vintage PYREX items from the estate of a 50-year employee of Corning in Charleroi, PA - the hometown of opal PYREX production.

One of the items purchased was the 3 Pc. 480 Casserole Set in the original box. The box reveals the date of production as 1963. The box also shows that Blue Dianthus was a "Sales Test" pattern.

Another PYREX mystery solved!