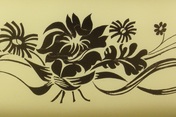 Thanks to the recent find of a "Golden Wildflower" 045 2 1/2 Qt oval casserole with the original box, we now know the official name and date of production. The casserole was officially named Golden Bouquet.

Previously the date estimate for production was in the 1960s due to the back stamp and the gold design. Corning ceased using gold designs in 1970 due to the rising popularity of microwave ovens. The box shows the official date of production as 1967.

The Golden Bouquet promotional casserole included a dual candle-warmer with round wooden handles, typical of other "golden" promotional items released the same year: Golden Wreath (043) and Golden Rose (045).
Keeping track of the various "golden" items produced in the 1960s has always presented a challenge for collectors with so many casseroles with similar names and gold floral designs.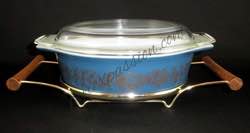 Previously, the dark blue 1 1/2 Qt (043) oval casserole produced in 1965 was unofficially named "Golden Bouquet" to help identify the pattern. But now that an official Golden Bouquet pattern has been identified, the naming confusion will likely continue. To distinguish between the two patterns, the unofficial "Golden Bouquet" 043 has been renamed "Golden Bouquet on Blue" in the
pattern reference
.