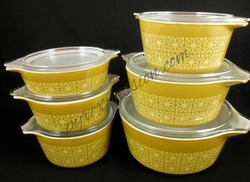 The Autumn Floral pattern was available on the 470 Set (471, 472, 473) and 480 Set (473, 474, 475). Previously the exact date of production was unknown, but estimated to be around 1964. However, new information has been found on a recent trip to the Corning Museum Rakow Research Library that confirms the date of production as 1966.

Autumn Floral was shown in a 1966 dealer announcement alongside of the Blue Stripes (Barcode) 470 and 480 Sets. The announcement proclaimed that Autumn Floral and Blue Stripes provided "bright colors and designs to fit any décor. Each set beautifully gift boxed."

Within a few years, the Autumn Floral design would become the basic design element for the alternate Verde design that alternated patterned and solid-colored items on mixing and Cinderella bowls.