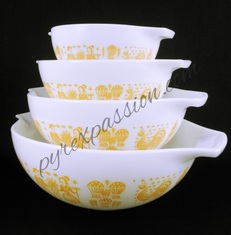 Butterprint was a popular Pyrex pattern offered from 1957-1968. Typically, the pattern appeared in white or turquoise on a contrasting white or turquoise background. However, the cinderella bowl set consisting of a 441, 442, 443, and 444 was also available in orange on a white (opal) background. The orange variation does not appear in Corning catalogs and had remained somewhat of a mystery in terms of when it was produced and how it was distributed.
The set is somewhat hard to find indicating it was likely produced for a short amount of time. In
PYREX Passion: The Comprehensive Guide to Decorated Vintage PYREX
, the date estimate was given as the mid-1960s based on the orange color scheme which was available on other patterns, such as Town and Country, during the same time period. As it turns out, the date estimate was accurate. However, Flickr.com member, AquaOwl, helped
solve the mystery
.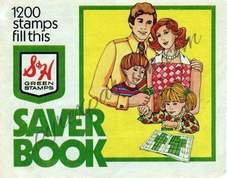 Orange Butterprint, officially named Pumpkin Butterprint, was offered as an item in the 1965 S&H Green Stamp catalog. For 1 1/2 completed green stamp booklets, essentially 1800 green stamps, customers could purchase the set. Sets were boxed in plain boxes with the item number 440-SP. The 440 references the set number, while the "SP" may indicate "special" or "stamp program." The set was available throughout 1965 and until the catalog expired on April 30, 1966.