The Mystery
As many collectors know, Corning produced two patterns named Verdé during the late 1960s - early 1970s. The first Verdé pattern, available in shades of avocado with opal lids containing an olive pattern, appears in dealer catalogs and advertisements. But the second version is completely absent from all marketing, advertising, and dealer catalogs raising many questions: Why was a second version of Verdé created? Why wasn't it marketed or advertised in annual Corning dealer catalogs? Was it only available at certain retailers? How was it distributed? We now know the answer!
Verdé Version 1: Verdé (Olives)
The first version of Verdé contained solid-colored bowls in progressive shades of green. When launched in 1967, only the divided dish (063) and oval casseroles (043 and 045) contained opal lids as shown in the 1970 Dealer Catalog below.
By 1972, the 470 Small Round Casserole Set (471, 472 and 473) and 480 Large Round Casserole Set (473, 474 and 475) also contained opal lids with the olive design. Boxes stated the pattern name as "Verdé... The New Avocado Colors." The product suffix code was "-16" as shown in the catalog.
Verdé Version 2: Verdé (Square Flowers)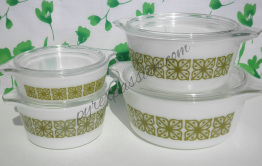 The second version of Verdé, produced during the same time period, contained a square flower design on most items. Mixing Bowls (401, 402, 403 and 404) and Cinderella Bowls (441, 442, 443 and 444) alternated with solid avocado bowls and the square flowers design. Plain, undecorated boxes, stated the pattern name simply as "Verdé" with the product suffix code "SP-16" attached to the item number. This alternate Verdé pattern was widely distributed based on the ease in which collectors can find the pattern in thrift shops and antique stores.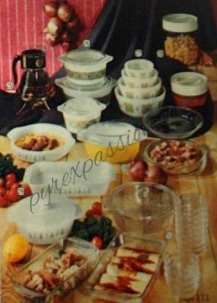 We now know that the second Verdé pattern was distributed through stamp programs popular in the 1960s and early 1970s. Drugstores, grocery stores, and gas stations distributed stamps to customers as part of their loyalty program. In exchange for stamps, customers could purchase items at redemption centers located throughout the country.

Top Value stamps - a major competitor to S&H green stamps - were distributed at many merchants, such as Kroger grocery stores. The second Verdé pattern was available in exchange for Top Value stamps. For example, the 480 Set (473, 474, 475) with clear lids was available in 1970 by redeeming 2 1/2 stamp booklets.