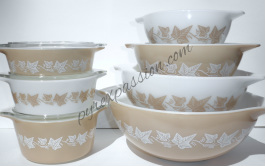 Sandalwood was produced for a short time in the early 1960s on a limited number of items. The pattern was available on the 4 Pc. Cinderella Bowl Set and 3 Pc. Bake, Serve, & Store Set. In the first edition of Pyrex Passion, the dates of production are listed as 1961-1962, the years in which the pattern is prominently featured in dealer catalogs.

While researching information in early Corning Glass Works employee newsletters, new information was discovered that reveals the Sandalwood 4 Pc. Cinderella Bowl Set was released in late 1960 in time for the holiday season. The release was announced in the December 1960 edition of the employee newsletter, Gaffer News, stating, "Two of the bowls are sandalwood with white ivy decoration; the other two are white with sandalwood ivy. Each set is packaged in a gift carton with integral handle. Available about Nov. 21."

A Refrigerator Set and Butter Dish were also available in Sandalwood, but were likely offered as test items to a limited number of customers, explaining their relative scarcity.