Update: 07/24/2016

​Recently, I was contacted by Edward Babcock and several other members from the

Restaurant Ware Collectors Network

(RWCN) with news that a member, Larry Paul, had solved another Pyrex mystery. Larry recognized the emblem appearing on the crest of some Pyrex dinnerware items as belonging to the historic La Salle Hotel in Chicago, IL. Edward also forwarded an image of a matchbook cover from the hotel showing the hotel's logo - a perfect match to the dinnerware pattern. For more information on the hotel, and other customized dinnerware manufactured for the hotel, check out the RWCN's

wikiID for this pattern

.

Many thanks to the members of the Restaurant Ware Collectors Network for their help in identifying this customized Pyrex dinnerware pattern!
Original Post: 9/23/2015
​Pyrex Passion II: Vintage Opal Dinnerware, Beverage Items, and Storage Containers documents over 60 customized opal Pyrex dinnerware patterns released in the 1950s-early 1980s. Throughout the years, Corning created custom dinnerware designs for restaurants, cafeterias, government agencies, hotels, and a variety of other institutions. Recently a new customized pattern has emerged, but the institution that ordered the pattern is a mystery.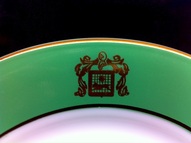 The pattern features an elaborate crest emblem that seems to depict the sun (or possibly a star) above an image of a lion or tiger. This rediscovered pattern appears in two variations. The first variation is printed in gold on a light green solid border background. The light green border is banded in 22-carat gold. In the second variation, the pattern is white printed atop a greenish-blue border with no gold band.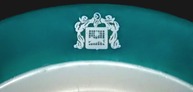 Most items do not contain back stamp information that would help to date the pattern. Plates include "Pyrex, Made in USA" along with the mold number, while the vegetable bowl contains the Corning Glassblower back stamp. The only clue to a possible production date is the gold band with solid border design that was used extensively on many color variations of consumer dinnerware from 1953-1963.

Although items in this rediscovered pattern are still emerging, the following items have been documented in each pattern.

Light Green Solid Border with Gold Bands
Tea Cup (does not include the insignia)
Saucer (does not include the insignia)
9 ¼-inch Dinner Plate
5 ½-inch Bread Plate
9-inch Vegetable Bowl

Greenish-Blue Solid Border
9 ¼-inch Dinner Plate
5 ½-inch Bread Plate